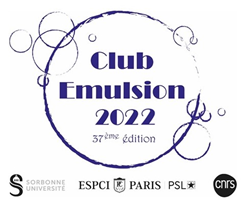 June 9 and 10, 2022 on the Pierre and Marie Curie campus of Sorbonne Université in Paris.
The Paris Institute of Molecular Chemistry (IPCM) and the Laboratory of Sciences and Engineering of Soft Matter (SIMM) organize this year the 37th edition of the « Club Emulsion ». This annual national meeting is an opportunity to exchange between academic and industrial researchers working in the field of emulsion.
Information is available on the website of the event:
https://club-emulsion.web.app/home
Invited speakers:
– Dr. Sylvain CAILLOL (ENSCM-ICGM, Montpellier)
– Dr. Muriel LANSALOT (CPE-C2P2, Lyon)
– Dr. Nicolas BREMOND (ESPCI-LCMD, Paris)
– Dr. Ian HARRISON (Givaudan, Argenteuil)
Participation is free of charge but registration is required.
Deadline for submission of abstracts for oral presentation and/or poster: March 15, 2022
Registration deadline: March 31, 2022
Notification if oral communication accepted: April 15, 2022
Do not hesitate to contact us if you have any questions:


Organizing Committee: Jutta Rieger, Fanny Coumes & Nadège Pantoustier