---
---
Accueil > Séminaires > Séminaires à venir
Séminaires à venir
Rint P. Sijbesma Department of Chemical Engineering and Chemistry and Institute for Complex Molecular Systems, Eindhoven University of Technology, The Netherlands
Jeudi 23 novembre 2017 - 14h00 - Amphi Joliot
Soft tissues exploit the interplay between covalent and non-covalent interactions to balance dynamics and mechanical strength. More specifically, the cellular matrix is well-known to rely on self-assembly to effect motility but at the same time it can stiffen dramatically in response to strain, thereby protecting from catastrophic deformation.
The design of biomimetic strain-stiffening materials has great potential in tissue engineering or regenerative medicine due to the large scope of structural tuning of synthetic molecules as opposed to natural proteins. However, the development of synthetic strain stiffening materials has been limited to covalent polymers and therefore one of the most fundamental dynamic supramolecular aspects of nature's hydrogels has been overlooked.
Here, we present hydrogels composed of self-assembling amphiphilic molecules that form long, semi-flexible fibers, whose morphology can be covalently fixated. Co-assembly with molecules having reactive groups allows for the controlled introduction of crosslinking points along the fiber contour which can be then reacted with a 5-arm cross-linker to obtain strain-stiffening gels mimicking the mechanics of filamentous protein networks.
In the lecture I will explore the effect of covalent fixation on the strain-stiffening properties, and I will show how the fibers can be cross-linked with a thermally responsive PNIPAM polymer to give networks that stiffen under strain as well as by heating.
Bruno Palpant Laboratoire de Photonique Quantique et Moléculaire, CentraleSupélec – Ecole Normale Supérieure Paris-Saclay – CNRS
Jeudi 30 novembre 2017 - 14h00 - Amphi Schützenberger
La résonance de plasmon localisé dans les nanoparticules de métaux nobles est un phénomène aujourd'hui bien connu pour ses développements en termes de couleur, d'exaltation de champ électromagnétique local et de conversion de lumière en chaleur aux petites échelles. Ces propriétés, déjà largement exploitées en régime d'éclairement continu, sont modifiées par l'utilisation d'impulsions laser subpicosecondes : réponse optique non-linéaire, modulation du champ proche, forte localisation de l'échauffement photo-induit [1]. Ces modifications reflètent la perturbation transitoire ultrarapide de la distribution électronique sous l'effet de l'injection brève et intense d'énergie [2,3]. Au-delà, des processus multiphotoniques peuvent conduire à l'éjection d'électrons [4], la création d'un nano-plasma [5] et de radicaux libres dans l'eau [6], l'émission large bande de lumière [7].
Dans cette communication, nous présenterons les mécanismes régissant la perturbation et la relaxation électronique dans des nanoparticules plasmoniques sous excitation laser pulsée, où nous montrerons que le caractère « hors équilibre » de cette distribution peut jouer un rôle important. Nous explorerons certains des nouveaux effets qui peuvent être exploités dans les domaines de la photonique ultrarapide [8], l'imagerie biomédicale et les nouvelles thérapies ciblées [8].
References
[1] Photothermal properties of gold nanoparticles, B. Palpant, in "Gold nanoparticles for physics, biology and chemistry", Ed. C. Louis & O. Pluchery (World Scientific, 2017).
[2] C. Voisin, N. Del Fatti, D. Christofilos, and F. Vallée, Ultrafast electron dynamics and optical nonlinearities in metal nanoparticles, J . Phys. Chem. B. 105, 2264–2280 (2001).
[3] X. Wang, Y. Guillet, R. S. Periasamy, H. Remita, and B. Palpant, Broadband spectral signature of the ultrafast transient optical response of gold nanorods, J. Phys. Chem. C 119, 7416-7427 (2015).
[4] T. Labouret and B. Palpant, Nonthermal model for ultrafast laser-induced plasma generation around a single plasmonic nanorod, Phys. Rev. B 94, 245426 (2016).
[5] E. Boulais, R. Lachaine and M. Meunier, Plasma-mediated nanocavitation and photothermal effects in ultrafast laser irradiation of gold nanorods in water, J. Phys. Chem. C 117, 9386–9396 (2013).
[6] T. Labouret, J.-F. Audibert, R. Pansu and B. Palpant, Plasmon-assisted production of reactive oxygen species by single gold nanorods, Small 11, 4475-4479 (2015).
[7] T. Haug, P. Klemm, S. Bange, and J.M. Lupton, Hot-electron intraband luminescence from single hot spots in noble-metal nanoparticle films, Phys. Rev. Lett. 115, 067403 (2015).
[8] X. Wang, R. Moreira, J. Gonzalez and B. Palpant, Coupling localized plasmonic and photonic modes tailors and boosts ultrafast light modulation by gold nanoparticles, Nano Lett. 15, 2633–2639 (2015).
[9] Z. Zhang et al., Near infrared laser-induced targeted cancer therapy using thermoresponsive polymer encapsulated gold nanorods, J. Am. Chem. Soc. 136, 7317−7326 (2014).
Niki Baccile Laboratoire de Chimie de la Matière Condensée de Paris, Université Pierre et Marie Curie
Jeudi 11 janvier 2018 - 14h00 - Amphi à définir
The use of hydrogels is expanding in many fields, from thickeners, to drug encapsulation, wound healing, etc... Microbial glycolipid biosurfactants, the gelling conditions of which in water have never been described, have a great potential in this field. This class of compounds, obtained from renewable resources via a fermentation process from yeasts or bacteria, is biocompatible, non-cytotoxic and it exhibits astonishing stimuli-responsive self-assembly properties in water.1,2 The presentation will then focus on the self-assembly properties of microbial glycolipids, studied by SAXS and cryo-TEM, and it will show some ongoing work concerning their hydrogel-forming properties, mainly probed by time, temperature and pH-resolved rheology experiments (Figure 1).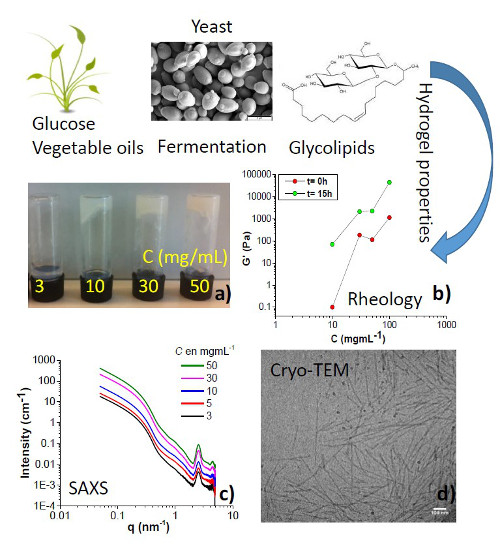 1 A.-S. Cuvier et al. Soft Matter, 2014, 10, 3950
2 N. Baccile et al. Langmuir, 2016, 32, 6343
---